Regular price
$399.00 USD
Regular price
Sale price
$399.00 USD
Unit price
per
Sale
Sold out
Halumin™ H18 - The Revolutionary New Kind of Photography Lighting Modifier
Who Should Get This Set? This set is perfect for photographers who intend to power their Halumin™ with speedlights and like to work fast and light. Many looks can be achieved from laying your Halumin flat on the ground and leaning it against native items for support. It can also be handheld for quick looks on the go. 
Halumin™ is the first lighting modifier of its kind, creating a truly portable and intuitive lighting environment. Halumin sets up in minutes, transforming from the size of a small backpack to photoshoot ready. Professional photographers can work faster while amateurs can get professional results on their first use.
Customers outside of the United States Can Buy Here:
You can purchase Halumin using eBay's global shipping program with these links: Halumin H18, Halumin Freestyle Set, Halumin Studio Set, Halumin Master Set
This is intended to provide you with a solution for buying Halumin while we work on a reliable solution to integrate global shipping into this site. Thanks for your support. 
Built To Last
The Halumin H18 is engineered with durable materials like heavy polyester ripstop laminate, nylon and tempered steel. It has a 18" staging area suitable for lighting small products, full plates of food, bottles and more.

Open Cylindrical Lighting
Halumin can make your small subject photoshoots quick and easy, even in traditionally tricky situations with open cylindrical lighting. Flat lay compositions, transparent and reflective subjects are made easy with Halumin's open cylindrical (OC) design. Halumin reshapes the light from your favorite flash or COB lights and surrounds your subject with an even narrow cylinder of light. At the same time it flags the light off of your background and camera lens, creating a narrow staging area within the Halumin for your subjects to shine. The controls are intuitive, move your subject away from the camera and the light gets softer. Move it towards the camera the textural details become more pronounced. Move it towards the camera and in front of the Halumin staging area and you have seamless rim lighting. No resetting lighting stands, reflectors, flags and softboxes to achieve different looks.
Tactile Control
Tactile light forming is incorporated into Halumin's patent pending design as well. The integrated light control rings make it intuitive to fine tune your lighting compositions. Simply fold areas of the ring outward where you want more light on your subject or keep them facing inward to maintain an even layer of light.
Light Your Options
Halumin is compatible with multiple kinds of lighting. Out of the box, it can be powered by 1 or 2 speedlights using the included mounting legs. Most brands are compatible but 70ws or higher are recommended for best results. Halumin can also attach to studio strobes and continuous LED lighting via the optional Studio Lighting Adapter (SLA). Studio strobes up to 500ws are ideal. Continuous LED lighting should be limited to fixtures that produce 5400lux @ 1meter (around 120 watts in most cases) to prevent heat damage. Halumin can be ordered individually or with optional accessories as part of a set. Studio Lighting Adapters are included in the Studio Set. Accessory Legs are included in the Freestyle Set, or both in the Master Set. 
Halumin H18
In The Box:
Halumin H18 OC Light Modifier (1)

Deluxe Carrying Case With Shoulder Strap (1)

Detachable Speedlight Mounting Legs (4)

Blackout Strips (4)
Specs:
Dimensions Open (L x W x H) - 36" x 36" x 8" / 914 x 914 x 302mm

Dimensions Folded (L x W x H) - 15" x 15" x 8" / 318 x 318 x 302mm

Staging Area (L x W x H) - 18" x 18" x 8" / 457 x 457 x 302mm

Device Weight - 4 lbs / 1.8 kg
Share
View full details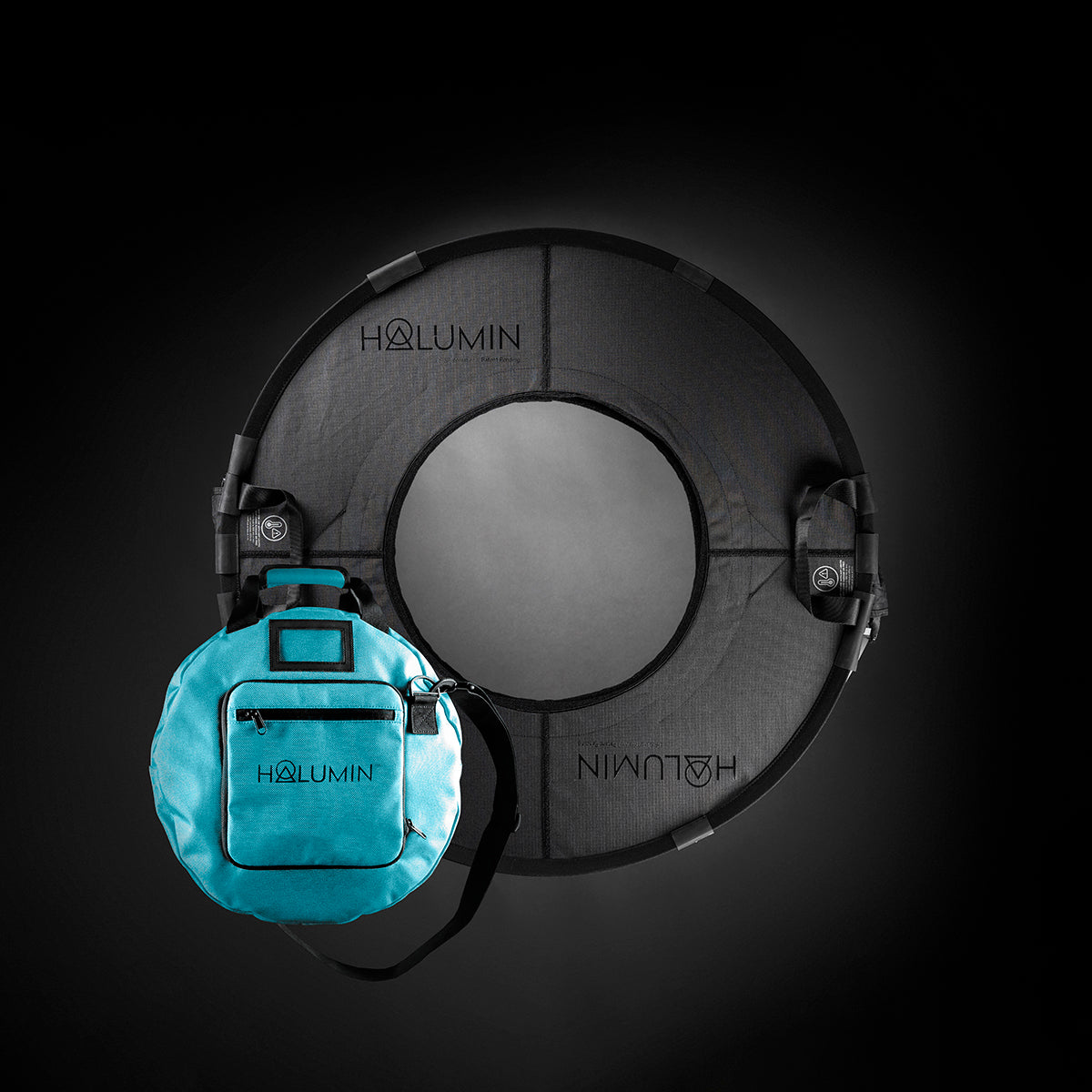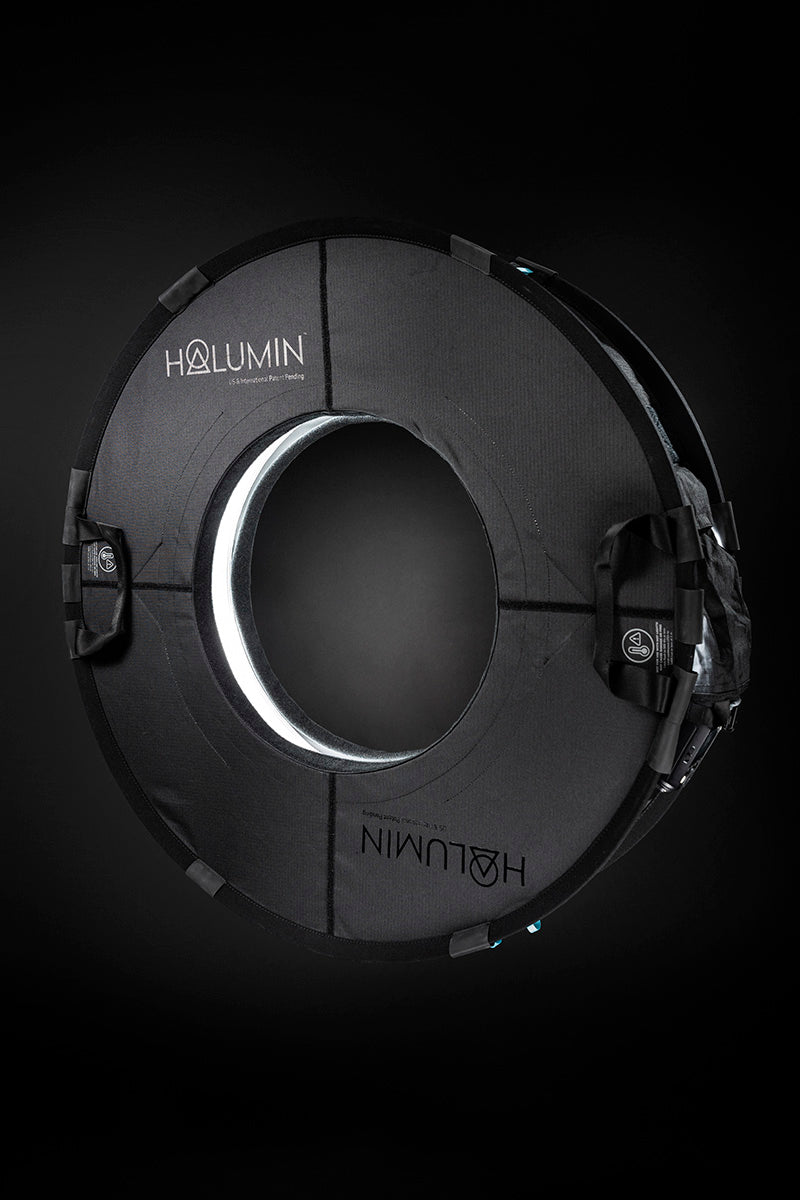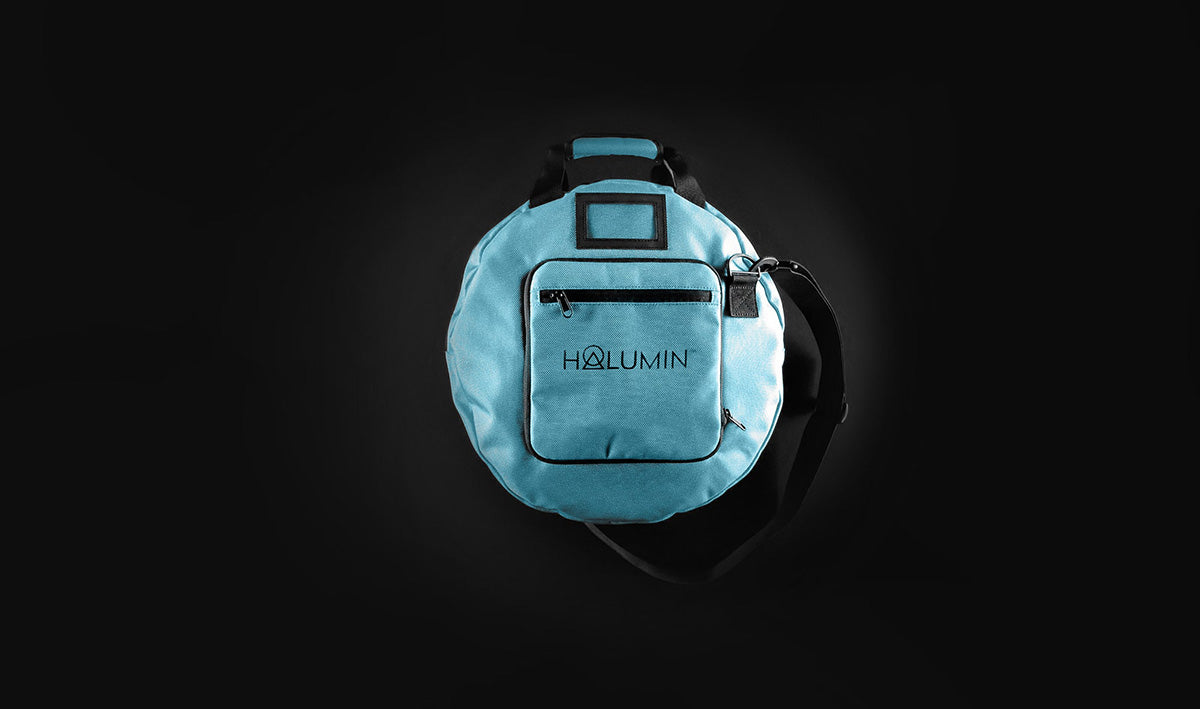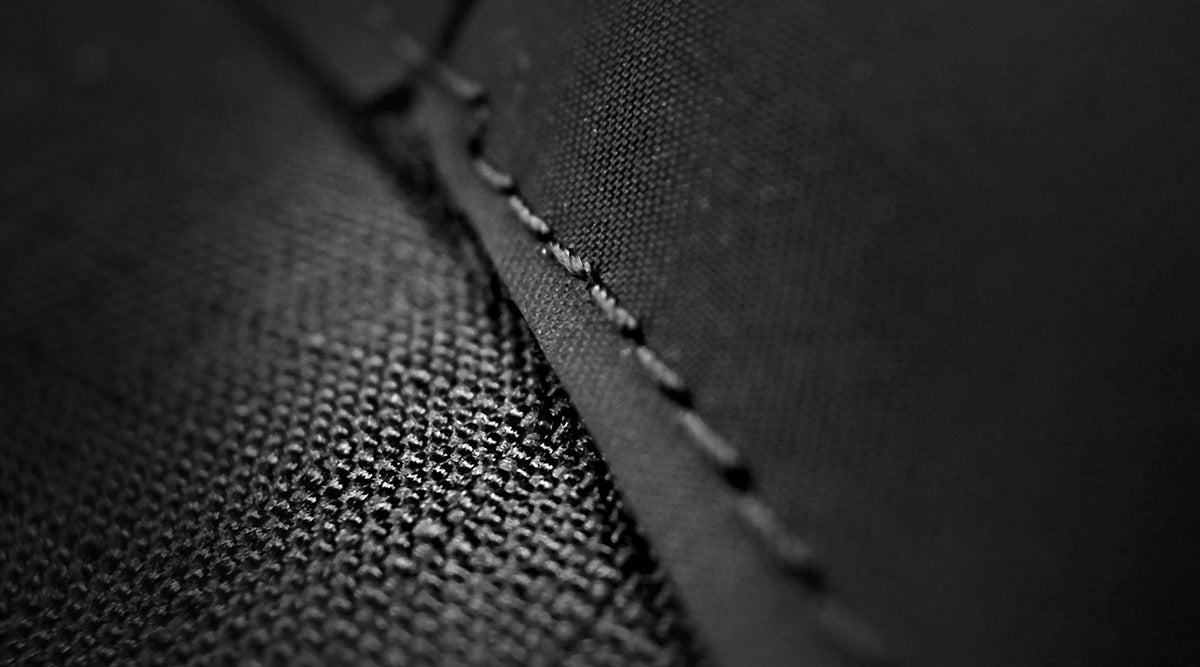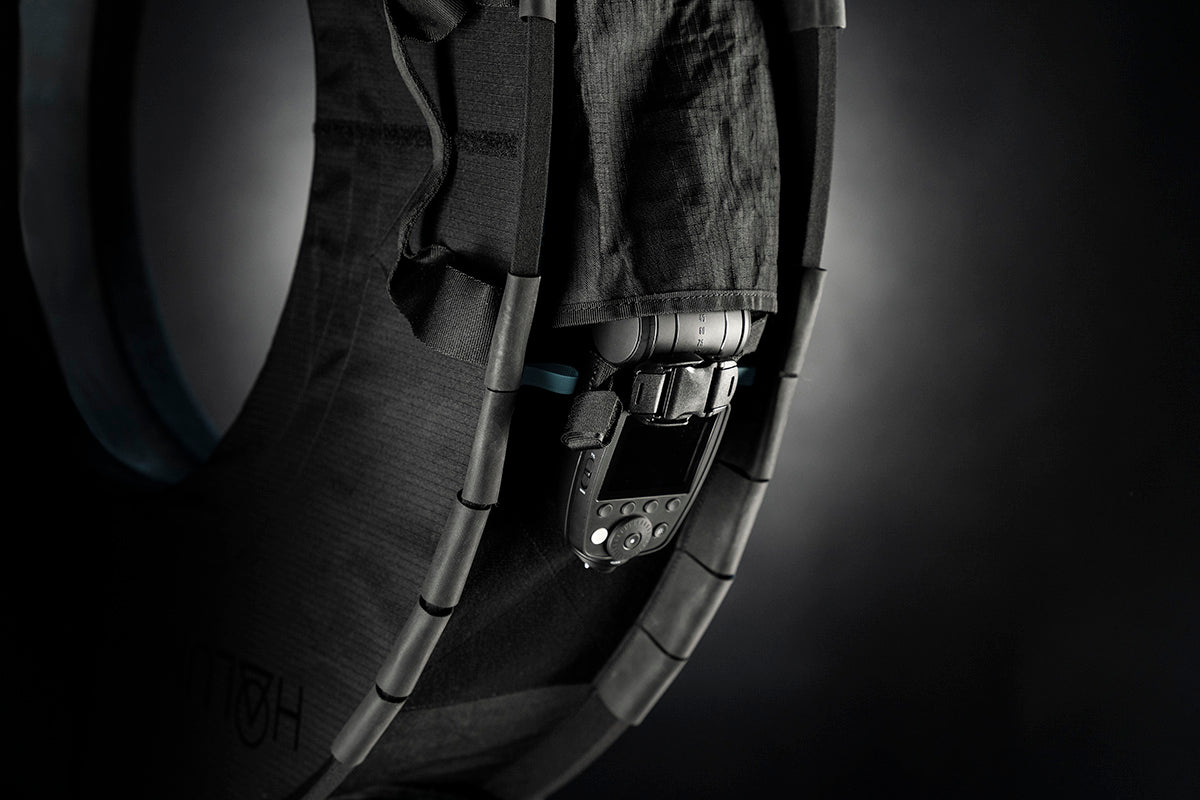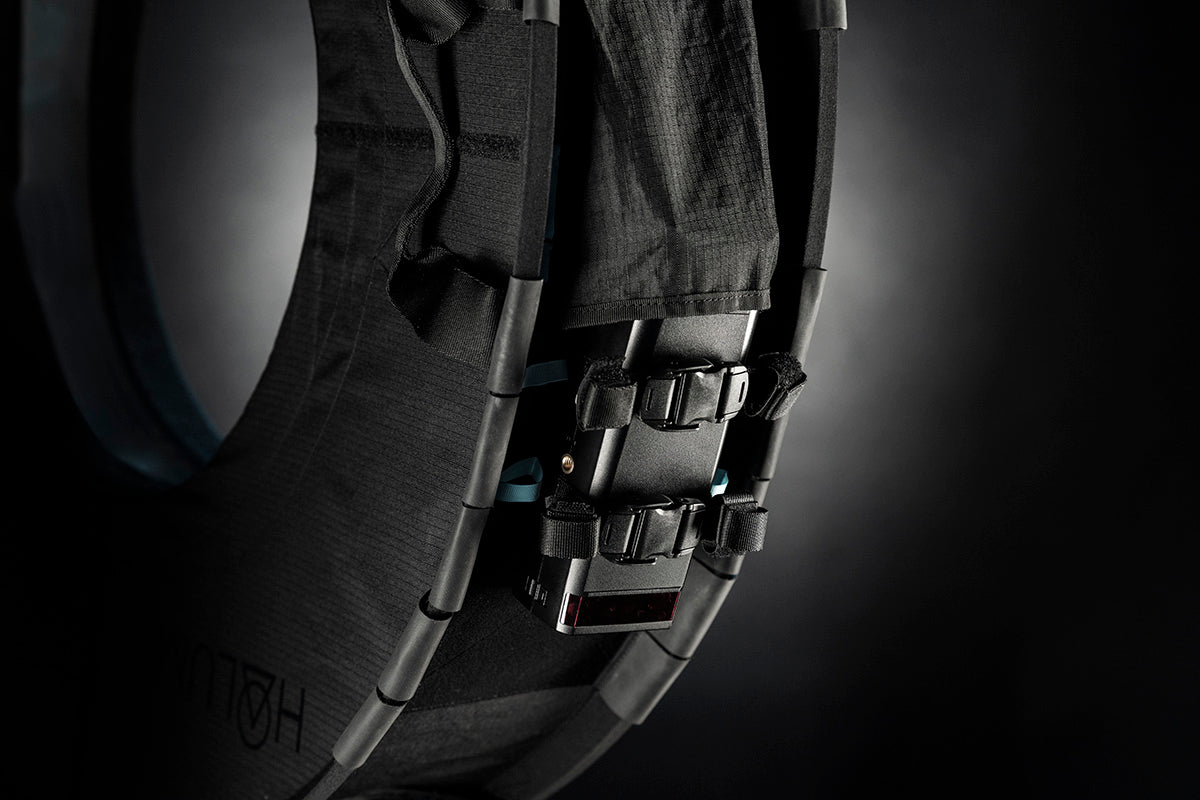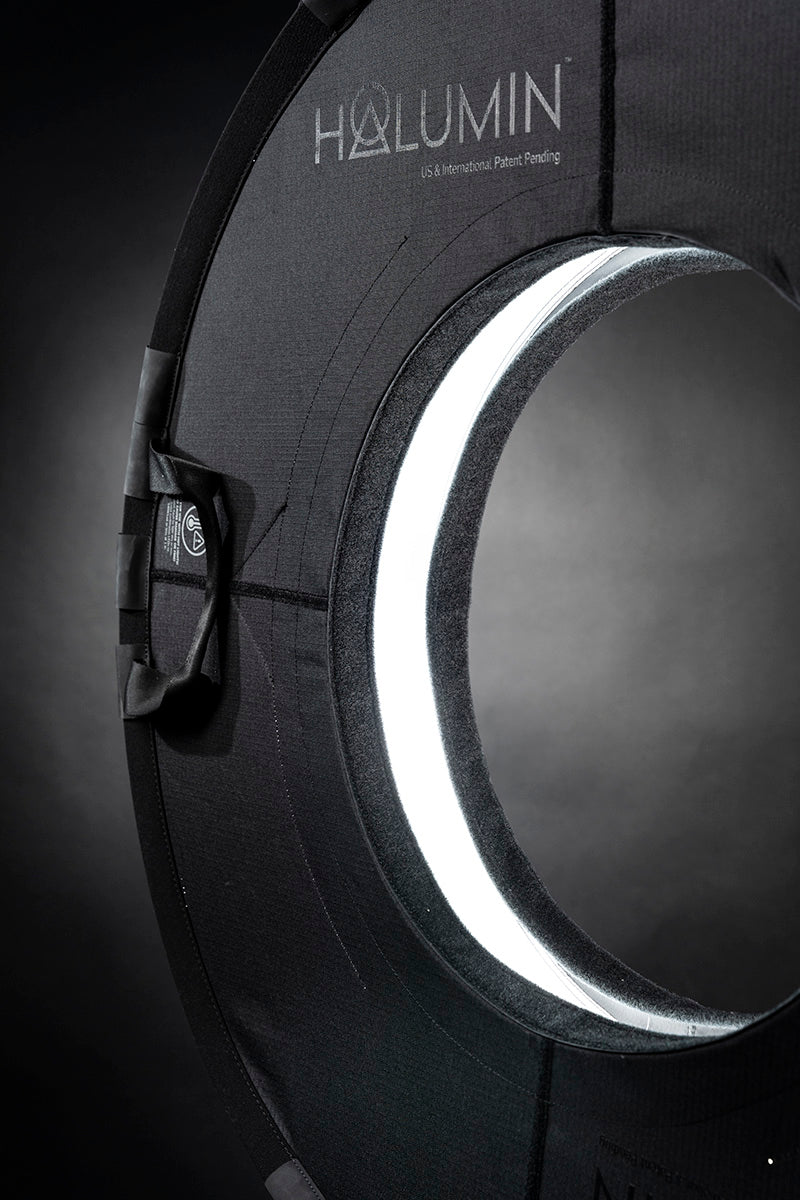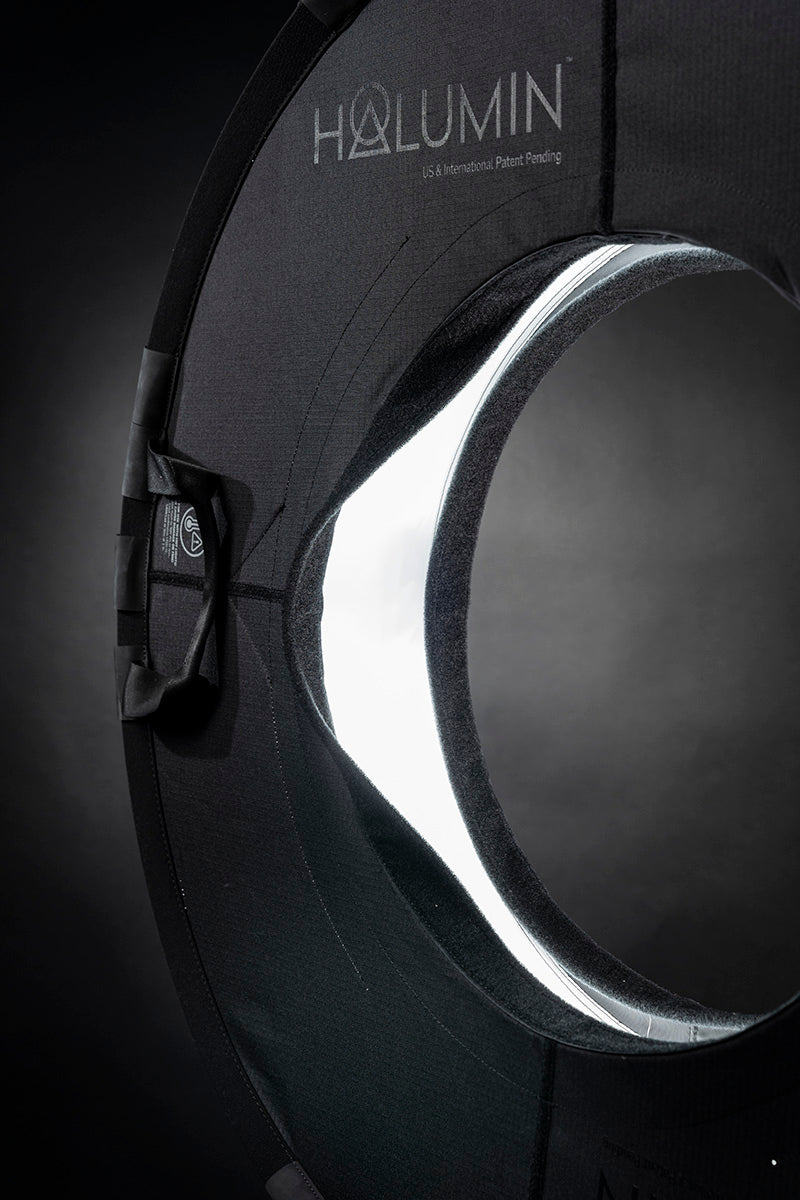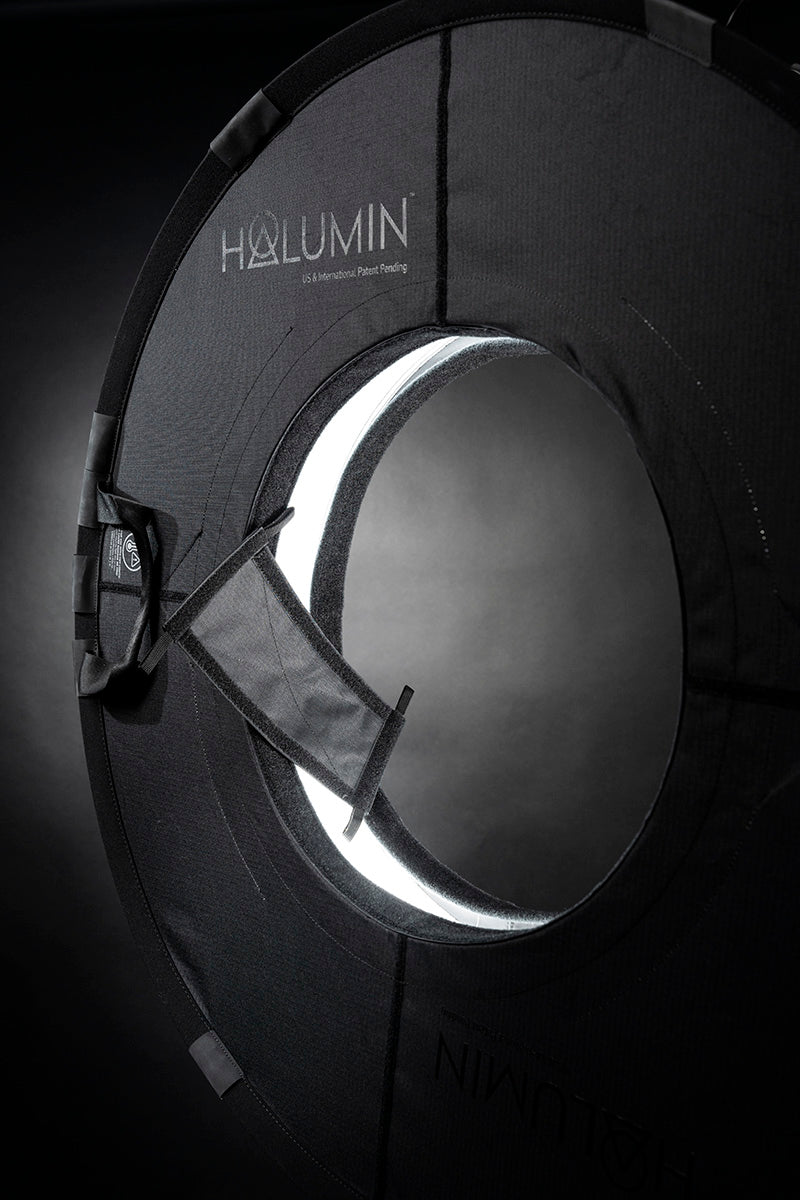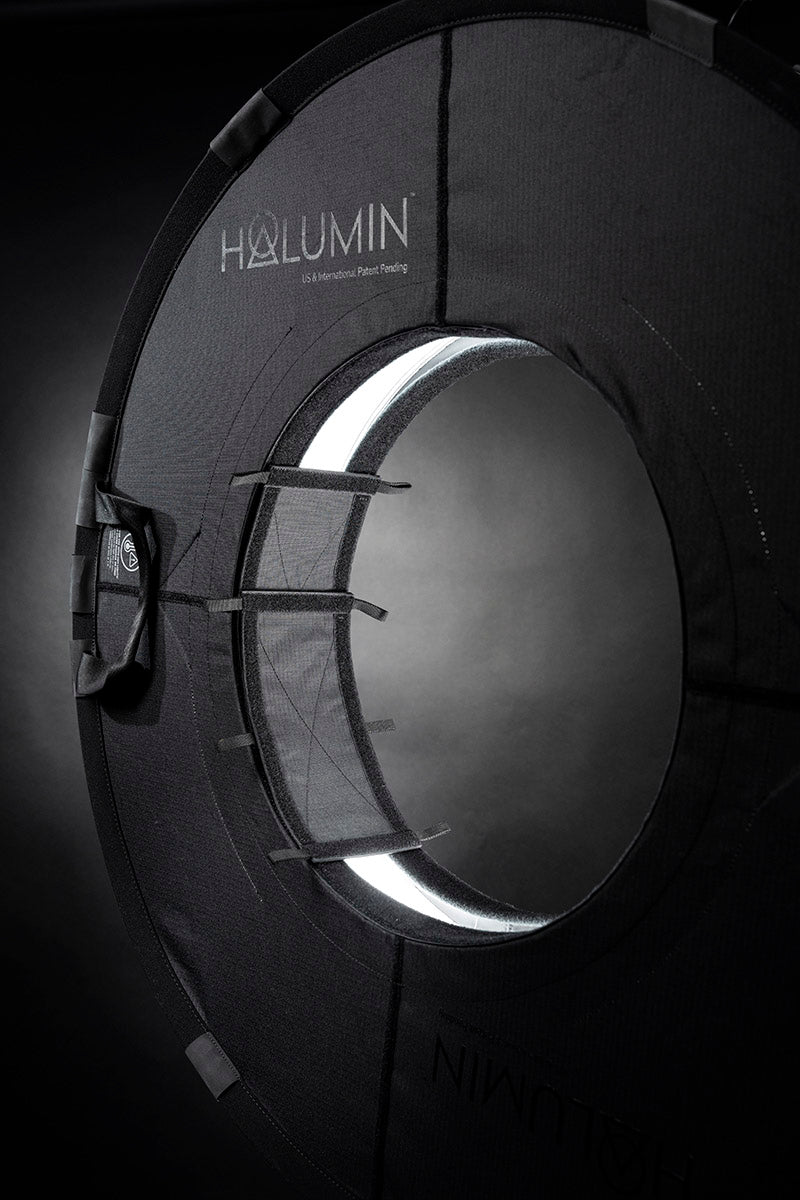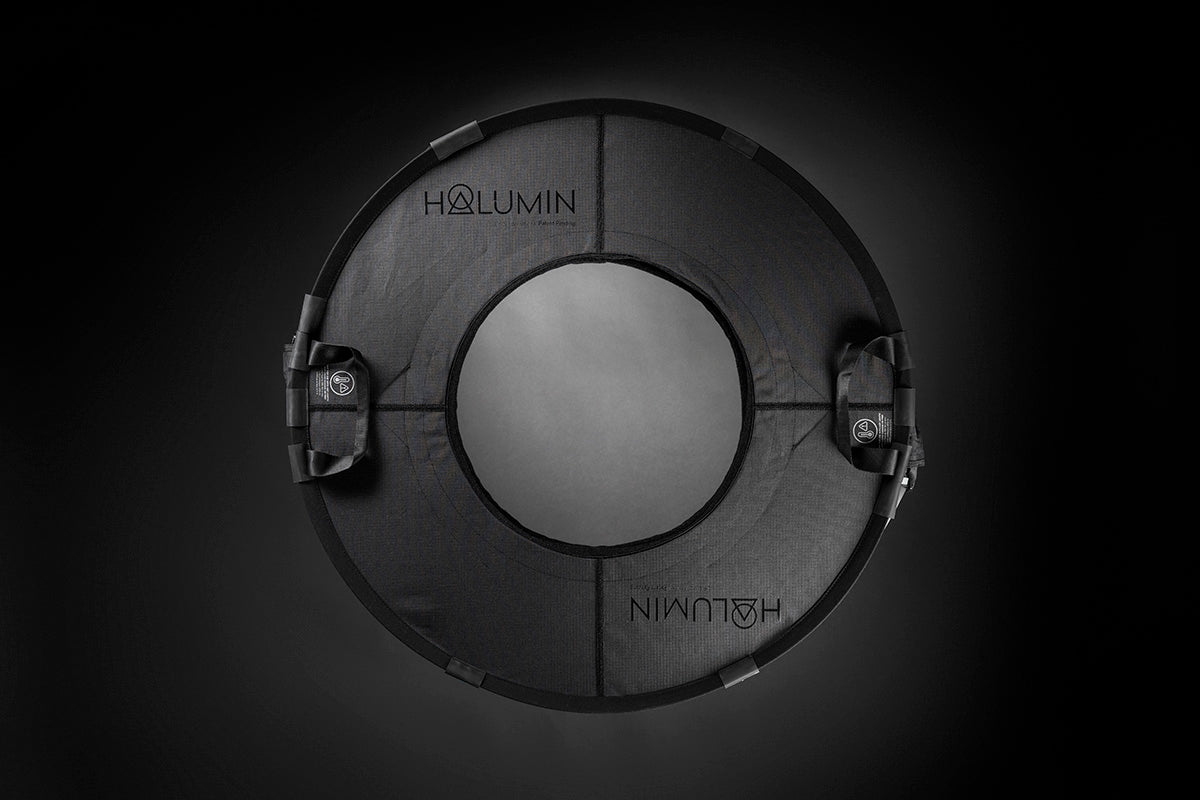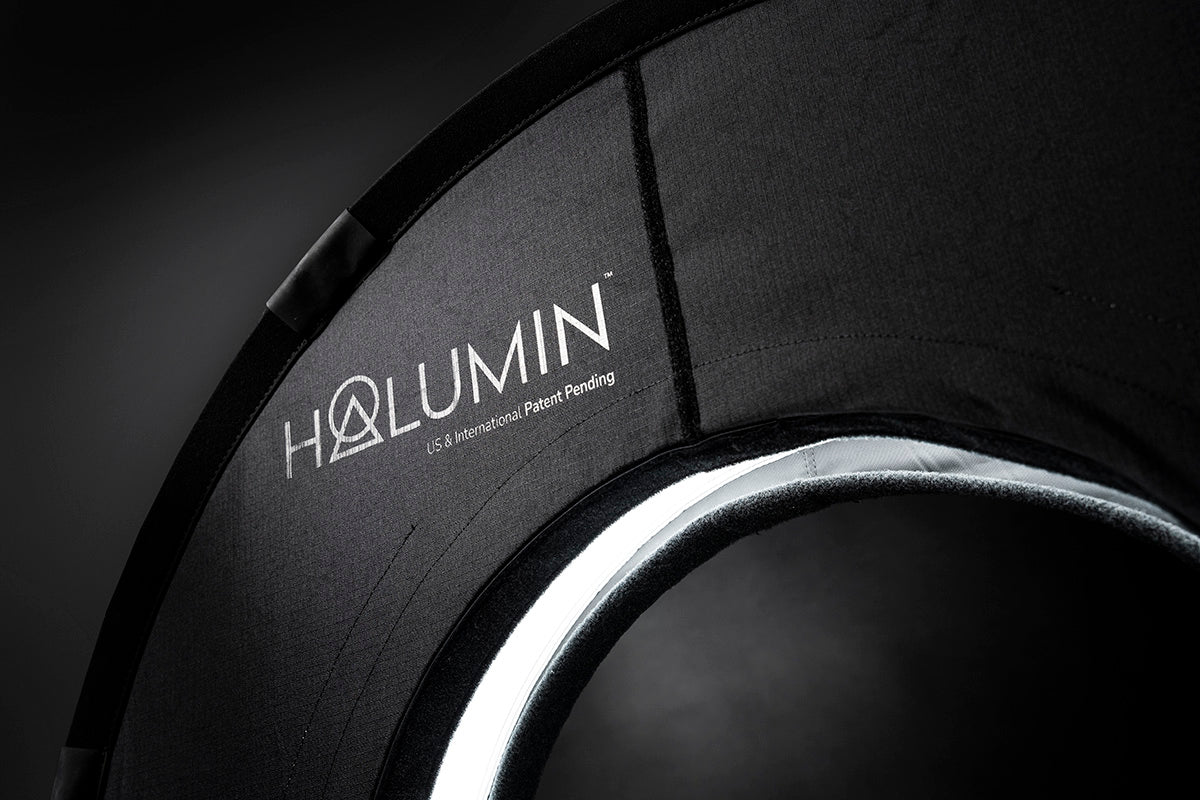 Simply super
Con i tutorial è semplicissimo ottenere risultati fantastici.
Super consigliato!
Stiamo ancora testando le potenzialità che sembrano infinite
This is the Way!
I cannot recommend this product enough. Its lightweight and compact design makes it easy to transport and set up and is designed to fit most standard strobes and flash units, which makes it a versatile tool for photographers who use different equipment. When my colleague and I took the first shot using it the silence was deafening as we viewed the result.
The Halumin Light Modifier is a durable, versatile, and affordable lighting accessory that can help you take your photography to the next level.
Thank you so much for taking the time to thoroughly test Halumin and write this review Gary. Your feedback left us in deafening silence as I read it.
Seriously game changing tool!
I've worked in production for 20+ years. I've lit scenes with a lighting crew and a truck full of lights, nets, flags, silks, etc. And I've been a solo run & gun producer lighting with a smaller kit. Maybe 3 to five lights, black wrap and a few C-stands.
Product shots have always taken time no matter what size the production. Using several lights to get just the right sheen, highlight, shadow or reflection while not introducing bad highlights, shadow or reflections is like threading a needle.
This tool does it in an instant. If it looks a bit off, its a small shift of elevation or angle and you get an entirely new look. Its so easy to experiment and it takes minutes, not hours. I hate the term "game changer" but Halumin has made me use it.
The attached images were done on a whim, in about 10 minutes, from the time I had the idea sitting on my couch to the finished shots on my phone. I used only my Halumin with two $90 Aputure MC RGBWW LED Lights that I rigged to the provided speedlight straps. Those straps aren't meant for LEDs this small but a little Gaff tape gets it done!
Halumin's build quality is great! This thing is WELL BUILT. The material it's made of is thick. Solidly sewn & assembled. You don't have to baby this tool. It will perform amazingly in real world production environments and feels like it will last for many, many years. My guess is I will buy a newer, updated model before this one wears out. If you have any doubts, don't. This light (modifier) will deliver!
(also, the very heady beer pour is from a sadly underused tap this week. I'll do better. Cheers!)
Thank you for taking the time to leave this review Chris. Cheers